ACTION PAGE  with bonus resources referenced in Bronwyn's Books
Welcome to the special action page created for readers of Small Company Big Business and Small Company Big Crisis.  Here is where you'll find access to the resources featured in the books, links to sign up or join in the conversations, and receive free monthly bonus resources to help you get fully focused and moving forward in your business. Here's where the real work and ultra-helpful Bronwyn Reid magic is found. ­
You'll find many of the downloadable resources mentioned in both books further down the page, but we'd also like you to consider some of the many additional options you can access such as FREE Quartertly Q&A Sessions, Quizzes to see what you need to prioritise for your business, and 1:1 Time with Bronwyn where you can Unpack and Prioritise your key objectives in: 
Becoming part of a bigger company supply chain,
Increasing your tender success rates,
Or simply maximising current and future business opportunities,
Learning to minimise your risk factors,
Creating a robust business that helps you to identy, attract, and keep big customers,
Ensure you can work with companies a lot bigger, or a lot smaller than you are, easily and understand each other well enough to create powerful, productive, and long lasting relationships.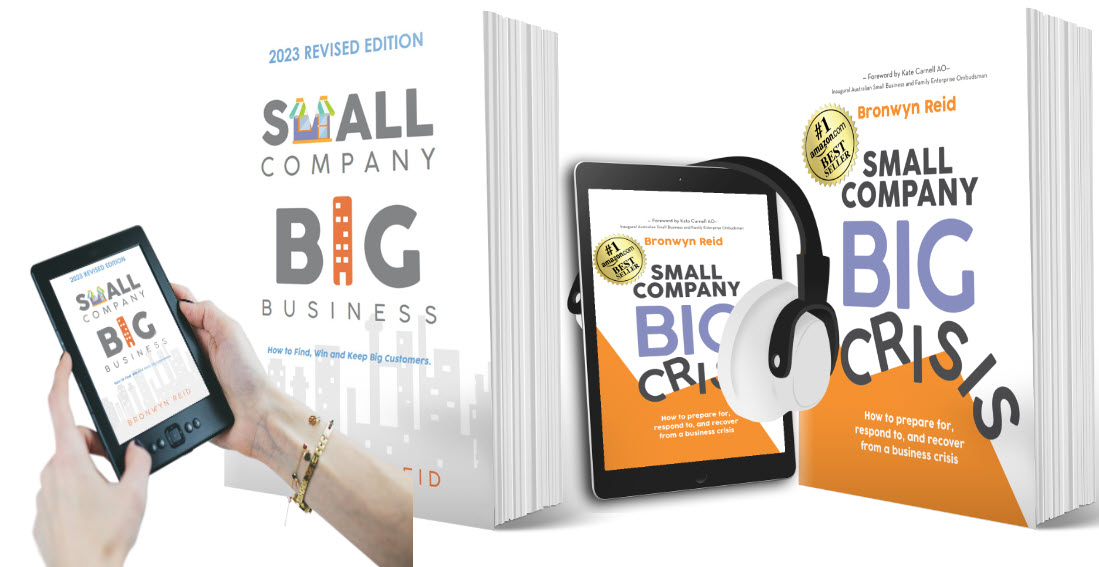 ­Quarterly Q&A Sessions
Access Bronwyn's Business Booster sessions – where Bronwyn will roll out a 20-30 minute special teaching session about aspects of her books, this includes 5 minutes of Q&A, plus a follow up report with any additional questions and a summary of what was covered, with action points.
Take a QUIZ
See how ready you really are to start securing bigger contracts.
Be warned, the answers might surprise you… go on  take the test, and you'll then have some priorities at least identified and be able to start planning around those.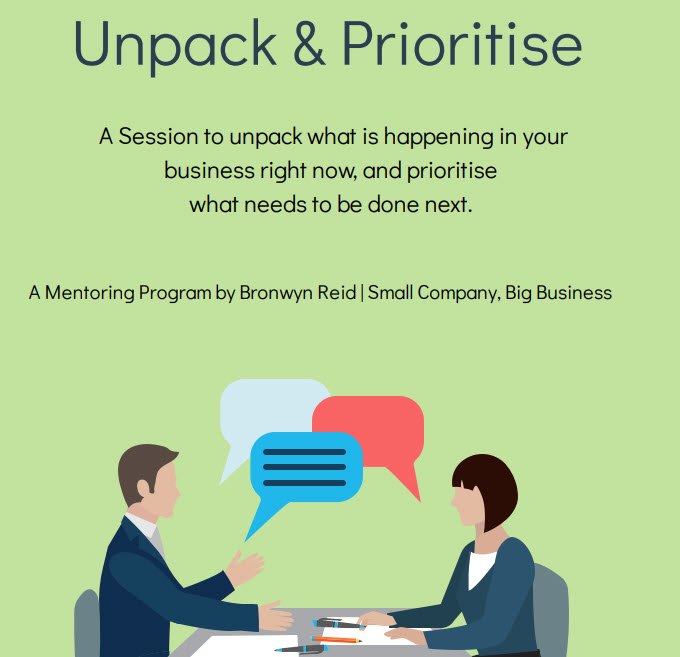 Book in for an UP Session
If you would like more help to Unpack and Prioritise a session with Bronwyn to fully explore what you need to do next, and how to plan your next steps according to your exact situation and where you want to get to, then please click here.
Access to Resources:
Here's where you'll find downloads and information about  many bonus resources including:
Handy flow charts,
Best tender tips and sites
Capability statement guidelines
Procedure templates
A Proposal success calculator
And much more…
More details are available on the Downloads and Resources page
Small Company Big Business:
*$7 each or $30 for 5 of these – CLICK LINKS for all details
Small Company Big Crisis: