Bronwyn's Quarterly Business Boosters
for Small Companies Doing Big Business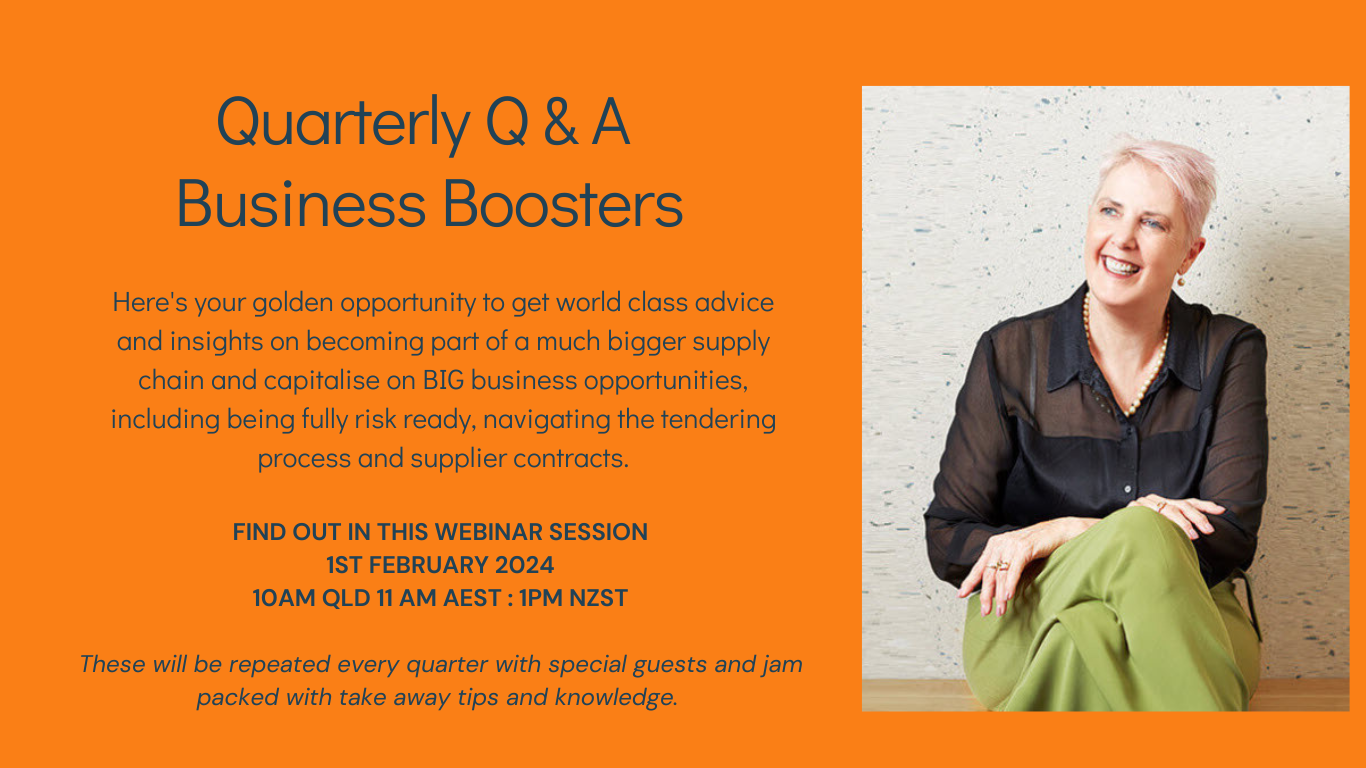 The next Business Booster Q&A Event is scheduled for 1st February 2024
Thursday 1st February : 10am for 45 Minutes
Thereafter these will be quarterly. Sign up once and get reminders for each session.  Here's the countdown to our next event:
Quarterly Business Booster Webinar
Introducing the new Small Company, Big Business
FREE Quarterly Hangouts with Bronwyn Reid
Bronwyn Reid has been immersed in that critical space between where SMEs grind away at growth and development, and large companies seemingly reap the rewards of all those big contracts, and indeed are often the ones handing them out.  Big Business (BB) and (GB) is where so many SMEs see the greener grass, and endless opportunities. But is that the reality?  Do you really want to go over that fence and enter that more sun-drenched paddock?
If you're a small to medium sized company yearning to stretch further and more successfully into being part of a significant supply chain then consider what might really be holding you back.
It's likely one of these issues:
Not fully understanding the requirements and jargon of BB
Not being amazingly savvy at the tendering process – yet
Not measuring up under the critical due process requirements of BBs when determining risk before allocating a contract to a smaller company or new provider.
Before you put any more effort into determining your pathway forward to securing those bigger opportunities, that you are sure lie in front of you and you're certain your company is ready for, why not join in an open conversation with Bronwyn to fully scope out what the main issues might really be for you.
Sign up and check-in for this open Q&A session with multi-award winning, best selling author and dynamic specialist Bronwyn Reid and get the real low-down on what works and what doesn't when it comes to getting that big contract you're certain you're ready for.
Business is changing, at all levels. The pandemics, natural disasters, and the fall out from long term risky business in general over these last few years means that SMEs need to be brought into the BB and GB loops even more than ever before, but there is a 'trick or two' to actually getting past just having the big conversations about this.
I'll be sharing some helpful resources, and featuring a special guest to help explore exactly what to do about The GAP Effect and how it affects business.  Please register and submit any particular questions you may have that you wish to be answered ahead of this event.  
The Gap Effect in Business
Big organisations have a language of their own.  They issue Tenders, EOIs, RFQ, ITTs, RFIs, RFPs … If an SME wins the Tender, they need ISO compliant Systems (9001:2015, 14001:2015. 45001:2018…  They have contracts written in a language that may be English, but it's hard to tell. You may be a Tier 1, Tier 2, Tier 3 or Tier x supplier. 
All these things (and more) can be verging on incomprehensible to an SME owner or manager. Remember, they fill many roles within the business – they're not specialists who share the language of their big-company counterpart.
What to do about The Gap?
There are three remedies:
Understanding
Education
Action 
In November we talked about Risk and Resilience and how  important it is to have a plan for dealing with and rebuilding from the things that might impact negatively on your business.  
If you would like to access more from the 2023 series of Business Boosters,
please CLICK HERE for the full review.