SMALL COMPANY, BIG CRISIS
#1 AMAZON BEST SELLER
Discover how to prepare for, respond to and recover from a business crisis in the latest book from Author, Bronwyn Reid.
Foreword by Kate Carnell AO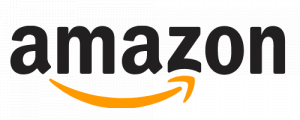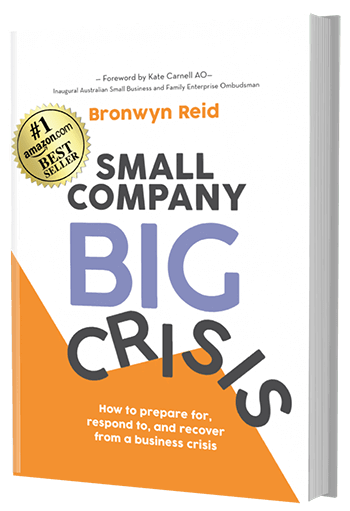 SMALL COMPANY, BIG CRISIS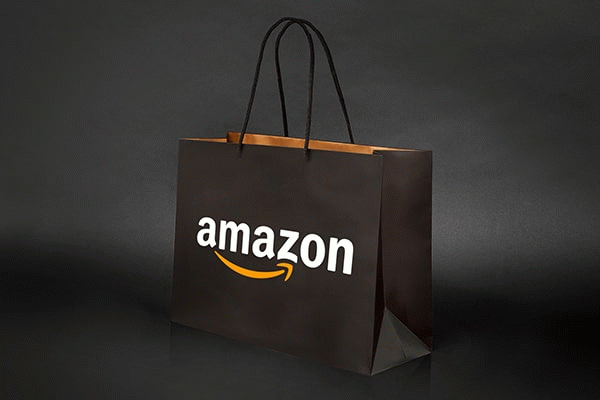 SMALL COMPANY, BIG CRISIS: How to Prepare For, Respond To, And Recover From A Business Crisis
2020 saw the biggest disruption to our businesses, communities and lives for decades. But the coronavirus pandemic followed close on the heels of the Australian bushfires, the resources industry crash, massive floods, the Global Financial Crisis…
It seems that we no sooner get through one crisis, when another one comes along. And that is exactly what does happen, but we treat the good times as "normal" business conditions, and the crises as the abnormal times. Australian businesses will continue to be buffeted by crises, whether they be natural disasters, economic ups and downs, a family tragedy, or even a pandemic.
Therefore, it is disingenuous to act as though the good times are "normal", and act surprised when things go haywire. Small businesses are very vulnerable to these disruptions. Research shows that 40 percent of small businesses never reopen after a disaster, and another 25 percent, that do reopen, fail within a year. Apart from the obvious impact on the business owners, their families and their employees, these failures have huge impacts on the wider community and delay all recovery efforts.
But small business owners often find it difficult to designate time and resources for something like a disaster or an economic downturn that may or may not happen. This book clearly shows steps for the business owner to take before, during and after a crisis hits. The steps are not difficult and do not take a lot of time, but will ensure that a left-field event is not one.
This book is a compilation of the author's own experiences and observations, and what she has learned from them.
SCBC is presented in five sections:
7 things to do to prepare your company as best you can
10 things to do when the crisis hits
10 things to do when the worst is over
Want a quick preview?
Click the link to download a sneak preview.
SMALL COMPANY, BIG BUSINESS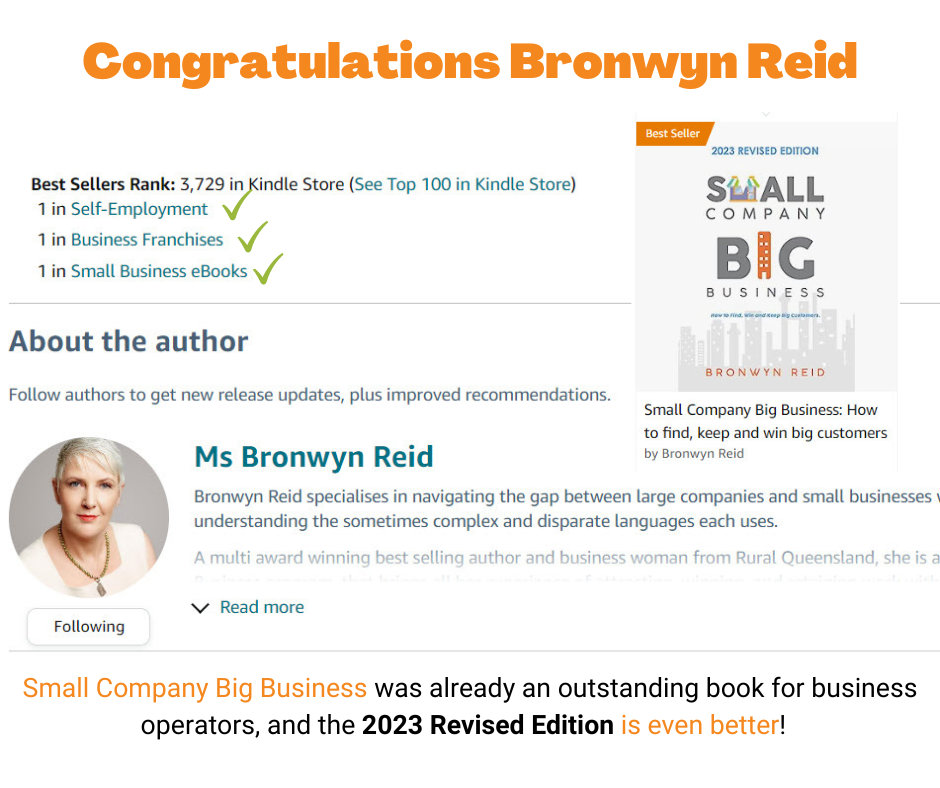 2023 Revised Edition is now available!

SMALL COMPANY, BIG BUSINESS:
How to find, win and keep big customers 
At some point, every small business will have to take on a contract with a large organisation if they are going to grow. But less than 15% of small companies are actually ready to take this step. For most small business owners, getting that one, first contract with a big company is the spark that allows them to really grow and have the business they dreamed of when they started their business journey.That one, first contract gives them the credibility to bid for the next, bigger contract, and there is a lot of business available for those small business owners who know how and where to look. But being a supplier to these large organisations is not easy.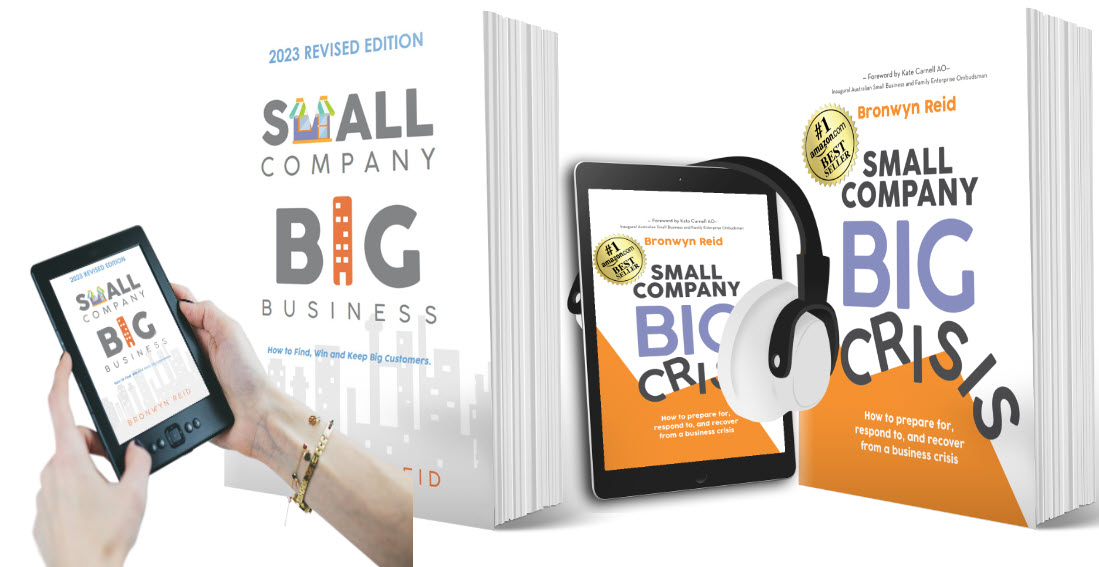 For most small business owners, it requires a complete change to the way they conduct their business. Big companies impose many restrictions on their supplier network. For many small business owners, navigating a maze of forms, licences, policies, procedures, permits and inductions can be overwhelming. And opportunities are missed.
However, it is possible to get your company ready, and exactly the same principles apply whether the contract is with Government, councils, large corporates, or even Not For Profit organisations. But almost everything that has been written about the small business/big business relationship is from the big company point of view. Small Company, Big Business will help you to navigate the difficulties of getting, and keeping, a small business ready to meet all the requirements that these big organisation impose.
The book draws on my own experience, and conversations with other business owners. It provides a practical guide to overcoming the 3 main hurdles for small businesses looking to attract large buyers as clients. In this unique book, I provide a simple framework for attracting and retaining these big buyers as customers.
AUDIO VERSION due by December 2023
SCBC is presented in five sections:
Understand how big buyers think
Set solid business foundations
Develop robust business systems
Buy directly from the online store.






CHRISS ROBB
Facilitator . Speaker . Presenter
,
Bronwyn provided fantastic facilitation of a sustainability panel at my Mass Participation Asia conference in Singapore. I was delighted with her ability to steer the topic in an industry that she is not familiar with and then calmly manage the interjections of a protester from the floor.
ALISON MOBBS
Queensland Rural, Regional and Remote Women's Network
,
Bronwyn is a proven champion and outspoken advocate for small businesses in regional areas. She has lived and experienced the vagaries and impacts of regional economies – the droughts, floods, commodity prices and downturns. Her driving passion to lift resilience in small businesses, to develop understanding, capacity and preparedness for the next massive impact, is the game changer regional Australia needs.
ANTHEA CUDDIHY
CQ University, Alumni,
,
Our conference theme was "Dare to be Different", and Bronwyn took this on board, and gave a presentation that interpreted the theme perfectly for our needs. She blended excellent research with her broad personal experience to deliver an engaging speech that delivered on our brief and resonated with her audience. Bronwyn was very professional and easy to work with, and I endorse her as an speaker.