I recently presented to an audience of procurement professionals from large organisations on the topic of creating better relationships between Small and Large Business.
I was the sole 'Small Business' person at the conference, so I had a chance to advocate on behalf of all my Small to Medium Business colleagues.
WHAT ACTUALLY IS A SMALL BUSINESS?
Over lunch on the first day of the conference, one of the attendees asked me a very valid question:
"What actually is a Small Business?"
I replied that I had been planning a blog post on exactly this topic for a while, so it seems that its time has come – prompted by my lunch companion at the conference.
The answer is anything but simple! We use the terms 'Small Business' and 'SME' rather loosely; perhaps with good reason. If we think of a continuum with my environmental consultancy at one end, and Rio Tinto (one of our clients) at the other end, there's not much argument to be had.
My company is clearly a Small Business, and Rio Tinto is obviously a large business. (For those who don't know, Rio Tinto is a major, multinational resources company with revenue of $40 billion.)
BETWEEN THOSE TWO EXTREMES, THERE IS ROOM FOR A LOT OF INTERPRETATION.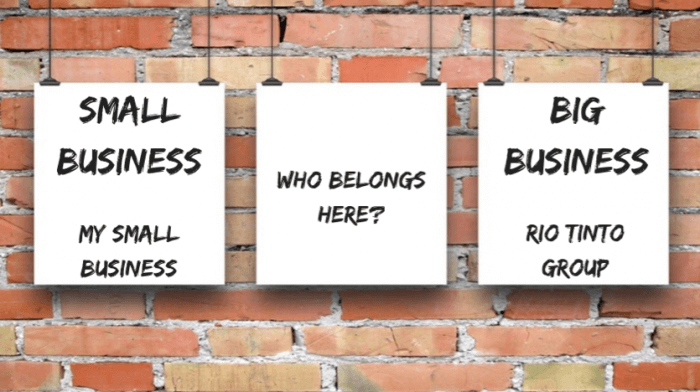 And everyone has a different interpretation.
Here are just a few examples:  Read More
https://smallville.com.au/are-you-really-a-small-business-or-not-and-why-it-matters/