As it's Valentines Day today, I thought I would do a post on the subject of Love – but not the romantic, hearts and flowers stuff that you will no doubt be overwhelmed with today. This is a story about Loving Your Business.
How many times have you heard "If you do something you love, you'll never work a day in your life", "Follow your passion", or even "Follow your passions and success will follow"?  Several thousand times?  A million?
That's certainly the business mantra, but actually encountering a business owner that lives this to the fullest is unfortunately quite rare. But I have just returned from a trip to the UK where I met one such person. He had passion for his business – in spades.
Our friend's son has a sports car that was in for some repairs. When the time came to collect it, I decided to go with them for a drive. (It was a working trip, so I had been confined to the office all day, and needed to see something other than my computer).
Once we arrived at the workshop, we started talking to the owner. Well, to be accurate, our friend Thomas and my partner Ian started talking to him – about the sports cars. That's not my special subject. The sports cars are Triumph Stags and they look like this.
The workshop was filled with about five of these cars – all in various states of construction or deconstruction. Trevor, the owner, rebuilds Triumph Stags to their original condition – better in fact. Trevor cheerfully admitted that they were an unreliable car, but once he was finished, they were as close to perfect as a car gets. Some of the cars were skeletons that he had purchased. One of them was even from Sydney. Another one had been sent to him by a client in California for restoration.
As you could imagine, our short trip to collect a car turned into a rather long visit. Trevor regaled Thomas and Ian with stories of each car (he treated each one as an individual person), showed them photos of his own Triumph Stag (which he had driven to Italy and back in some amazing number of hours), explained how the spray job on one of them would have to be redone because the water would get into the headlights – or something …
And so it went. I, on the other hand, was absolutely enthralled with this business case study I had wandered into. This guy was so into his subject and his business that it seemed to be the only thing in his life. (I did find out that he has a wife and at least one daughter, and that daughter, incidentally, is coming to work at a coal mine just a few hours from us!)
His passion for his business and his product was palpable. He loves Triumph Stags, and he knows everything there is to know about them.  In fact, he was determined to tell us a fair amount of what he knew that very evening, but I had to put a stop to the car talk eventually.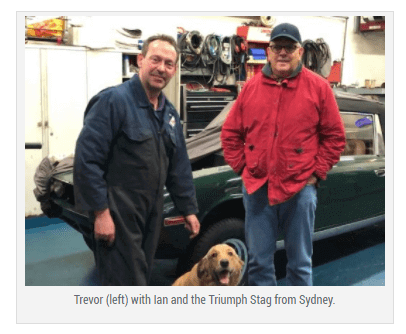 Trevor (left) with Ian and the Triumph Stag from Sydney.
I quizzed Trevor about his micro-niche. He is the only person in the UK who does this. Cars are sent to him from all over the world, so he is obviously the recognised "go-to" man. A true Key Person of Influence. He does not give his clients a timeline for completing a restoration. "It will be ready when it's ready" he tells them, and yet he has work lined up for at least the next 2 years.
So there you have it. It really is true. Trevor shows that If you have the depth of knowledge, and love (yes – love) for your product and what you do, a profitable business results. His enthusiasm was absolutely infectious, even to me, and I sure don't get excited about cars. Of course, he must be at the very least moderately business-savvy, and charge appropriately for his masterpieces, but there is no way he would be attracting clients who are prepared to pay large sums of money on an indefinite timeline without adding his love for his craft to every single piece of every single car.
And I will never look at a Triumph Stag the same way again. I'll always wonder if it's one of Trevor's.