Each January, I eagerly await the publication of a particularly interesting piece of research – the Edelman Trust Barometer Global Report.
This influential piece of research uses a worldwide survey of more than 33,000 people to gauge our trust in business, government, NGO's and the media.
The survey respondent's answers are converted into a 'Trust Index', the average percentage of trust in NGO's, business, government and the media, with three levels: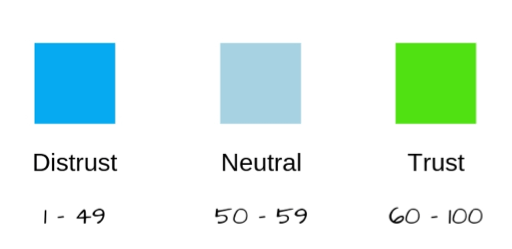 As always, the 2019 report contains some interesting, indeed surprising, results.
MANY OF US ARE NOT HAPPY WITH THE WAY THINGS ARE.
Overall, we are a little more trusting this year, but the government and the media are still distrusted by the general population:
Only one in 5 of us believe that the 'system is working for me'.
3 out of 4 people feel a 'sense of injustice'.
Approximately 3 out of 4 of us feel a 'desire for change'.
Worse, approximately 1 in 4 people feel a 'lack of hope'.
That's an awful lot of people who are not happy.
WHO ARE THEY LOOKING TO FOR CHANGE?
The interesting part of the report for me is 'where' the people who are distrustful and are looking for a change, are looking for that change to originate. And it's not from their governments.
76% of people are looking to business CEO's to create change. They believe that CEOs should take the lead on change rather than waiting for Government (this is a large increase of 11 points since the 2018 report).
In fact, 71% of people who are employed think that it is critical for their CEO to respond to challenging times. These people trust their employer more than NGO's, business generally, government or the media. In Australia, the figure is 77%. Even those disenchanted people I referred to earlier trust their employers.
WHAT DOES THAT MEAN FOR US, AS BUSINESS OWNERS AND EMPLOYERS?
It means leadership. Employees are looking for quality leadership.
Our employees are looking to us as a trustworthy source of information on social issues, the global economy and technology, and expect us to live up to that expectation.
They are looking to us to provide leadership on difficult social and economic issues. They are looking to us for a values-driven and inclusive culture that gives them fulfilling and interesting employment.
But there's another expectation as well. Remember that statistic from earlier in the post; that 76% of people look to CEOs to create change? In fact, it's more than an expectation.
DOES YOUR BUSINESS HAVE A SOCIAL PURPOSE?
The majority of that 76% expect that their employer has a greater purpose,a meaningful societal impact. For 25%, it's a deal breaker.
No social purpose = I don't work for you.
(Interestingly, this expectation of social purpose was very similar across all age groups, from 18 to 55+) – not just the Millennials.
The Edelman Trust Barometer Global Report concludes that Trust at Work is 'The New Employer – Employee Contract', and offers four leadership imperatives that we must fulfil: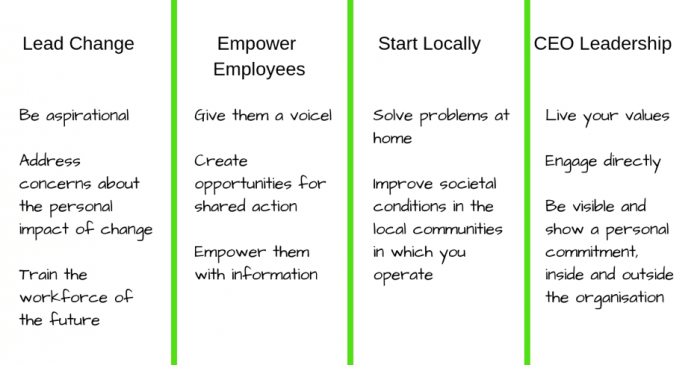 I don't know about you, but to me, that list looks like a lot like a prescription for old-fashioned good leadership.
Good leadership has always been important for business success. What the Edelman research is telling us is that now, values-based leadership that engenders trust is critical.
I hope some of our largest organisations are reading the Edelman Report.
"The opinions expressed by Smallville Contributors are their own, not those of www.smallville.com.au"
SHARE THIS ARTICLE WITH LIKE MINDED SMALL BUSINESS PEOPLE
RELATED POSTS